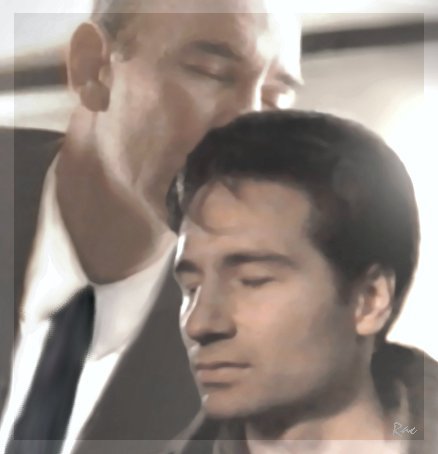 A new graphic I made, titled "Moment of Grace". Go here for more!
The Weatherglass Series, NC-17
A Highlander / X-Files crossover series. When the world of Immortals intersects unexpectedly with the world of two FBI agents, how does it effect the lives of those involved?
Corposant (from Mulder's POV) NC-17 June 1998
Mulder discovers yet another alien life-form...and thinks its pretty cool :-) June 1998 / NC-17

Flash Flood (from Skinner's POV) NC-17 January 2000
Skinner's curiosity about Mulder's personal life spills over into his own...in more ways than one.
A Perfect Christmas NC-17 November 25, 2000 Drama
It's post-Requiem yet again, and life is just about getting back to normal for everyone. Sort of.
Pas de Trois NC-17 December, 2000 Comedy
It's post-Requiem, way post Requiem, and things have progressed along without Mulder, and in many, many ways... Sometimes people show up at the most inconvenient moments, don't they?
Revising History PG-13 November, 2000
A birthday story for the Diva of Skinnerfic, Xanthe. Since she has written Skinner in almost every conceivable situation and with everyone (humanly) possible, I thought I'd go where no writer hath gone before, and....well....you'll just have to read it to find out what I did. <g>


Afterimages (a XF/HL xover) NC-17 published December, 1999
Disaster visits Walter Skinner's personal life, and coping with it leaves him floundering. Duncan MacLeod never asked to be involved, but fate intervenes. Together, they come face to face with some painful issues as their lives intersect between prevarication and grief, need and revelation, and both men must find new ways of thinking in the midst of change.
Originally printed in the zine, "Wounded Heroes: Tales of the Big Guys"


Dies Irae PG August, 2000
Takes place sometime following the 7th season's last episode "Requiem".
New graphic added February 23, 2001, "Abduction".


Post Meridiem Synthesis NC-17 August, 2000
A series spanning the 6th season, my way of uniting and explaining what was going on behind the scenes.
I: Driving Anger

II: Oblique Triangulation

III: Deathless Resolutions

IV: From Malo to Bueno

V: Rainy Days and...

VI: Exordium

VII: Tremor

VIII: Life's a Game

IX: Afield, Apart, Asunder

X: Cordis Incognitus
Yes, Mr. Skinner, there is a Virginia NC-17 July, 2000
Pure fluffiness in which things aren't always what they seem, but it then turns out everyone likes it that way.



Echoes in an Empty House PG May, 2000
A post-Avatar Skinner must deal with his new life.



Spring Fever PG-13 March 24, 2000
Spring has sprung, and while on a case, the season seems to effect people in unique ways.




The Legacy PG-13 January 10, 1999
Walter must deal with the inheritance that Sharon leaves him. 1/10/99



And In The End Begun on 10/4/99A post-apocalyptic *work in progress* that will explore our intrepid X-Files characters and their journey into a brave new world.

For Want of Buttered Luck

Toss'd in an Uncertain Sea

In the Presence of Eternity

In Need of Heroes

From the Chaos of Life

Dancing the Atavistic Rhythms of Life

In the Confessional of the Mind

The Iceboy Cometh

Red Sky in the Morning

Living the Farce of History

Through the Door We Never Opened

On The Outside Looking In


The Etching Stories (as in, wanna see mine?)

Intaglio NC-17 September, 1999
An anonymous seducer drives Skinner to the brink of...something.

Repoussť PG September, 1999After falling over the brink, Skinner decides to hammer out his own relief. (Sequel to Intaglio)

Damascene NC-17 February 15, 2000
Mulder just can't win -- first Frohike betrayed him, and now Skinner wants a piece of his ass. (Sequel to Repousse)


Soul Faults and Heart Tremors PG-13 December, 1999
Scully faces upheaval when she finds out about Mulder and Skinner.

Relaxation Therapie NC-17 1999
Total and complete cotton candy for a smiling Skinner lover.

A Dedicated Life PG-13 June, 1999
An outsider's perspective on the relationship between our two favorite FBI guys.
On the Beam NC-17 April, 1999
The shortest distance between two solitary points isn't always a straight path.
Lex Talionis NC-17 (with warnings) March 5, 1999
Sometimes, when you've taken a lot, you just want to give a little back...
It's a Small World After All NC-17 February 21, 1999
Mulder and Skinner and Scully in L.A. at a conference, and things turn out interestingly...
...And Getting Smaller Everyday PG-13 February 21, 1999
the sequel to Small World...what happens on Monday morning afterwards.
Midnight Knocking NC-17 September 13, 1998
Mulder and Skinner in a re-invented late-night visit during the episode Zero Sum, an alternative vignette.
---